Laminate
Floor Cleaning
& Restoration Service
Remove scratches and scuffs
Laminate Floor Cleaning & Restoration Service
Cleaning wood floors or laminate flooring is a job nobody enjoys as dirt and scuff marks soon re-appear and
after time the factory finished top coating wears off. Why not entrust the cleaning and restoration of your
laminate floor to the highly experienced professionals at Gemini who can provide you with an easy to use
non-toxic, bio friendly, product that:
Deep cleans your floor
Re-coats and repairs the original surface
Covers scuffs and minor scratches
Helps seal joints
Brings the shine back to your floor
Dries to a hard finish giving your floor a new lease of life
Lasts between 12-18 months depending on traffic
Can be purchased from Gemini as a DiY product.
It's as simple as mopping your floor – the solutions are applied using a microfibre mop and cloths so no heavy machinery is required. Why not give us a call for more information, or visit
www.laminaterestoration.co.uk
Before & After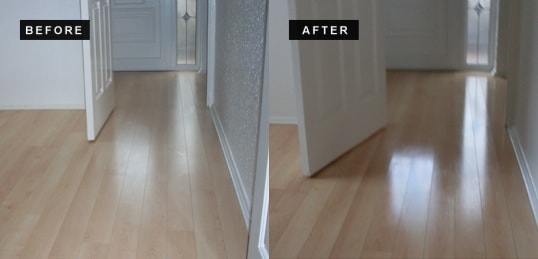 TESTIMONIALS
Your product is absolutely AMAZING!!
"Thank you so much for saving my laminate floors! I was at my wits end trying everything and it made the floors look worse. I was about to give up. I can't tell you how happy I am to see a brilliant shine on my floors again. Actually, it's shinier than they ever were! I am also a contractor and will tell all my customers about this product. You have made my home a happy one. Thank you so much!"
Product works wonders on laminate flooring and was long overdue to be marketed.
"No other product does what yours does in getting the old wax, etc off the floor in prep for restoring. Made the mistake of not using a clean microfiber head for the second application 12 hours after 1st and paid the price with having to reclean areas and reapply restorer."
I am so glad I found your product for my laminate floors!
"We have had the floors for 2 years and have always wanted them to have a nice shine. I have used your cleaning and restoration products and I am thrilled with the results. It is so easy to do and the end result is beautiful. It is so easy to keep up. I can not say enough and never thought the floors could look so good."
The benefits of professional laminate floor cleaning
While laminate floors are traditionally easier to clean than carpets, it's not always easy to get it right. Some regular household cleaning products are not strong enough to cut through stubborn stains, while others are too harsh and can cause damage to the surface of the flooring.
In addition, the wrong techniques or equipment can cause abrasions, scratching or pitting the flooring and ruining its appearance. Too much water, or water of the wrong temperature, can cause wood to warp and laminate to lift and peel.
All of these problems are not only unsightly – they can also be hazardous to your health. Chipped or lifted flooring can easily be tripped over, while dents and scratches can harbour germs that can cause health problems for you, your family and your pets.
At Gemini, we know exactly the right equipment and techniques to use to get the very best out of your flooring without causing any damage. Our professional cleaning products are specially formulated to tackle all manner of dirt and stains on laminate floors, leaving them spotlessly clean, germ-free and in perfect condition.
This is why it's essential to enlist the services of a professional floor cleaning company.
Now your laminate flooring can sparkle like new!